Making a Rosary can be an easy project to do. Anyone can create one, which they will cherish for years to come.
I made two Rosaries. One is more suited for smaller fingers. I used plastic and wooden beads. It cost about $6.00 for enough supplies to make three Rosaries. The second one is more elaborate and made from Hematite beads and Old World beads. The cost for it is about $11.00 for one Rosary.
I purchased all my supplies at a local discount store. But they can also be found at most hobby and craft stores. You can even find them online.
I hope you enjoy making your Rosary as much as I enjoyed making mine. While you're making it, take time to remember what each bead stands for.
Supplies
1 Crucifix

15 ft. Thread (I used a heavy yarn for the simple and waxed linen for the elaborate)

2 Big beads

7 Medium beads

50 Small beads

(I used 10 mm for big, 8 mm for medium, and 6 mm for small. However, you can choose what size you want to make it unique for you.)
What to do:
Fold the twine in half to find the center. Thread the crucifix on and slide it to the center. Tie the crucifix in place.

Thread both sides of the twine through a big bead. Tie a knot.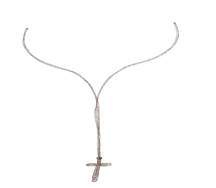 3. Thread on three of the medium beads one at a time, tying a knot after each bead.
4. Thread on the remaining big bead and make a big knot.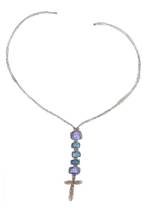 5. Now, you're going to work both sides at the same time. Lay one strand of the thread to the right and one strand to the left. (The following directions are to be done to both sides.)
6. Tie three knots leaving ½ inch between each knot.
7. Thread on 10 small beads and tie a knot.
8. Move over ½ inch and tie a knot.
9. Thread on a medium bead and tie a knot.
10. Move over ½ inch and tie a knot.
11. Thread on 10 small beads and tie a knot.
12. Move over ½ inch and tie a knot.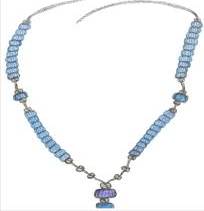 13) Thread on medium bead and tie a knot.
14) Move over ½ inch and tie a knot.
15) Thread on five small beads.
16) Join the two sides and tie a knot.
17) Thread one side of the twine back thru each of the five beads.
18) Thread the remaining twine back thru the other set of five beads. Snip of the excess twine. Depending on how big you made you knots you may have a little or a lot to trim away.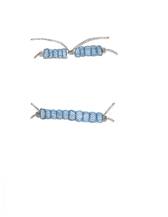 You should now have a completed Rosary. Make one for a friend as a surprise and share in the joy of giving.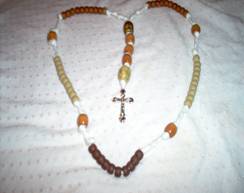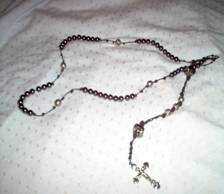 ©2008 Text, illustrations and photography R.S. Lipcomb